NATURALS COLLECTION

Asha Carpets' "Naturals Collection" is a green line of hand-crafted floor coverings. Hand knotted out of natural, un-dyed and hand-spun wool and silk, each piece embodies the simplicity inherent in clean lines and pure materials. Ranging in tone from creamy white to dark gray – with an infinite number of natural beige and grey shades in between – each carpet is a unique creation, defined as much by its design as by its materials.
All designs for this line are organic, abstract and biomorphic, almost like shapes that you can see under a microscope.
All of these have variety of textures that adds additional dimension to their surface making them very tactile.
Carpets in this collection are available in custom sizes.

Asha Carpets is a boutique, Brooklyn-based company that merges the worlds of art and craft to produce design legacies of lasting impact.
With a unique grasp on estetics, Asha creates singular works of art that acknowledge the styles and patterns of various world cultures, and the contemporary vision of their diverse artists.
Using the finest hand-spun wool, Asha's carpets are hand woven in China and Nepal by skilled artisans, and the resulting pieces represent the ideal union of modern-day functionality and rarefied beauty.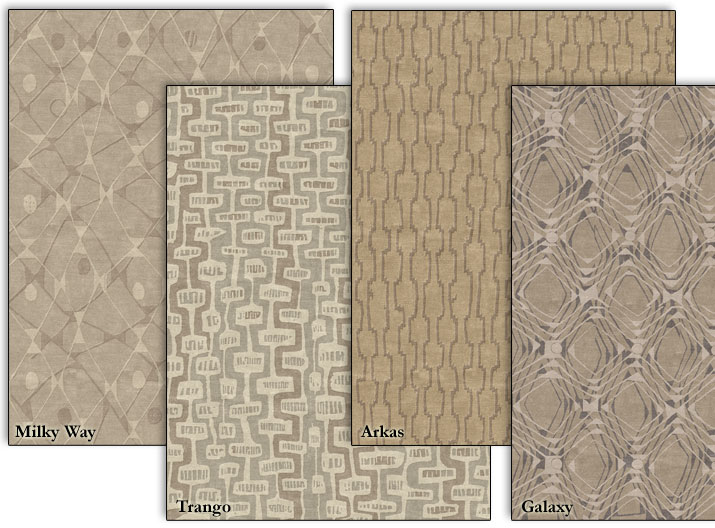 Please contact us at ashacarpets@yahoo.com for more info or hi-res images.


For more info: ASHA CARPETS, 94-98 Nassau Avenue, suite 360, Brooklyn, NY 11222
Tel (914) 645-1262, e-mail: ashacarpets@yahoo.com